On 12 May 2021, Megan Robertson, Post-Doctoral Fellow and Researcher, participated in a webinar series titled "Intimate Archives: Interventions on Gender, Sexuality and Intimacy" which forms part of the broader Governing Intimacies Project, which is led by Srila Roy at the Wits Institute for Social and Economic Research.
This international webinar series addresses issues of gender, sexuality and archives in the Global South. It creatively reconstructs archives not simply as historical curations but as contested terrains of intervention around which contemporary struggles for the past and the future are being fought.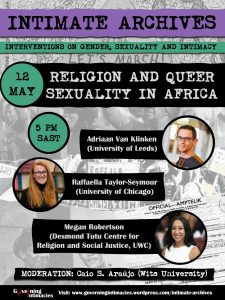 Robertson's paper titled, "South Africa as a Queer Utopia? The limits of the myth in the case of the Methodist Church of Southern Africa" featured in a session focused on religion and queer sexuality. Her paper focused on exploring the limitations and consequences of the perpetuation of the discourse of a queer utopian South Africa within the context of religion. The three main points she made was: 1) that the discourse of South Africa as a queer utopia relies heavily on a secular human rights ideology in which religion is necessarily understood in opposition to queer rights and thus is left uninterrogated, 2) it centres the conversation around particular queer normative rights issues, especially same-sex marriage, thus "muting" wider discussions around violence, marginalisation and oppression of queer people and, 3) it homogenises queerness and flattens the intersectionality of queer experience forgetting that a "queer utopia" is centred around a particular queer normative experience.
The Q&A following the presentations drew the panellists (which included world-leading scholar of religion and sexuality in Africa, Adriaan van Klinken and Raffaella Taylor-Seymour) into deeper conversations about what 'queering' religion looks like in different research contexts and what scholarship on religion contributes to (re)constructing a contested queer archive in Africa.