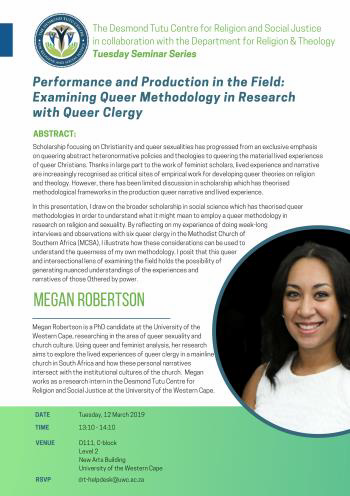 Performance and Production in the Field: Examining Queer Methodology in Research with Queer Clergy
10/03/2019
Christchurch Terror Attacks Victim Commemoration
04/04/2019
The Politics of Identities, Ethics and Reconciliation (PIER) project is a South African–Swedish research cooperation initiated jointly by the University of the Western Cape (UWC) and Umeå University (UmU). Jointly led by the Head of Department of Religion and Theology at UWC, Prof John Klaasen and Prof Karin Sporre, Professor of Ethics at the Department of Applied Educational Science, Umeå University the colloquium at UWC in March 2019 focused on Religion, Ethics and Education. As part of the Centre's thematic focus on Religion and Education, Dr Scharnick-Udemans convened a panel for the PIER colloquium around the theme, Religion, Ethics and Education. Along with Ms Robertson and Dr Jodamus from the Department of Religion and Theology, they presented in the panel: Pedagogical Reflections from a New Generation of Scholars at the University of the Western Cape. The abstract below captures the discussions held in the panel which will be submitted to the journal: Religion Education for publication.
Abstract
---
In the wake of the wave of recent student activism in South Africa, the term 'decolonial' has become a weighty conceptual tool in the academy. While the notion of decoloniality has been masqueraded as novel, it borrows heavily from earlier arguments that have been developed in intersectional feminist research. Scholars often fail to acknowledge this academic lineage to the detriment of both teaching and research in this area. As a result, issues of gender, sexuality, and sexual orientation have often and quite ironically been sidelined in the emerging oeuvre of decolonial scholarship.
This has perpetuated the injustice and invisibilities in scholarship that decolonial approaches claim to be aimed at dismantling. Furthermore, it appears that the term has become a taken-for-granted add-on rather than a theoretically dense lens through which to understand teachings practices and research. This panel will explore the intersections of queer and decolonial pedagogies via a range of classroom case studies at the University of the Western Cape. In doing so it aims to describe what it means for teaching in decolonial and queer ways, explain how this appears in practice, and theorise how innovative teaching approaches can be used to engage and raze the vastly inequitable power systems that regulate teaching and research in the academy.